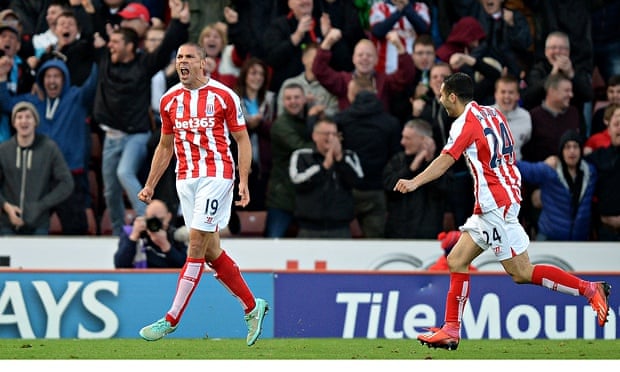 1) A day when the result was everything
I'm not sure if there's such a thing as a 'must-win' game in October, yet going into this one, the need for a victory nevertheless felt overpowering. Another defeat, especially at the Brit, would have served as one more compelling testimony that we are a struggling team, that the revolution has stalled, that our season has a slow puncture already. Doubts about our direction would get louder, especially without the safety net of the word 'new' prefacing it.
That desperation for a win pervaded the Potter nation. You could see it in supporters, on the forums. You could see it in the manager, loading his midfield with attacking players, gambling on a half-fit Victor Moses, the return of Erik Pieters his only concession to solidity. And you could see it in the sheer relief that radiated from 25,000 people at the final whistle as Pharell Williams' sickly pap spewed from the PA system at the end.
This was an important three points, giving us a cushion, cancelling out the miserable defeat at Sunderland, hopefully acting as a springboard to get a bit of momentum going. It shouldn't, however, be allowed to paper over the cracks. Stoke are still not playing to their potential, affected by the same problems, which show little sign of going away. There were times, especially during the first half, when we looked a poor side.
We could easily have been 2-0 down inside 10 minutes, a worryingly disoriented, wide open Stoke allowing Gylfi Sigurdsson and Ki Sung-Yueng two golden chances before we'd so much as had a shot of our own. The visitors looked fast, sharp, clever, fluid in the early going, while we were disjointed, predictable and static.
That lack of movement at times is probably my biggest concern. Each of our starting midfielders again felt the crowd's wrath when they turned and played the ball backwards, but the forward ball too often simply isn't there, with our wide players not making the right runs or flat out not running at all, standing there hugging the touchline when they needed to be on their bike, the full backs statuesque behind them. Small wonder we don't carve teams open – beyond the goals, we again created few genuine opportunities, with Crouch's header from a corner (that he probably should have done better with) and Adam's early breakaway strike that went just past the post being the best of the rest.
It wasn't all bad; there was some good, tidy stuff at times. Our most dangerous play invariably went through Adam, who shouldered 95% of the creative burden, always showing ambition, whether it was in dribbling forward through the middle or trying the spectacular. Add a well-taken penalty into the mix and the recipient of the man of the match award was a no-brainer.
The decisive second was beautifully crafted, a testament to Stoke's post-interval improvement and the role of all three substitutes in that shift. It was also encouraging that we were able to show the character to claw ourselves back from a goal down to win – a gift we had in spades last season but which we had yet to recapture this term.
The three points don't disguise the fact that as the season progresses, we don't look much closer to cracking our home discomforts…but they're nevertheless a blessed relief.
2) A penalty years in the making
So, who got Michael Oliver in the 'make an example' sweepstakes?
Make no mistake about it, the penalty awarded against Ryan Shawcross had been coming for a long time. He has long been the media's bête noire when it comes to wrestling and manhandling at corners, cursed by not being a big enough name for pundits to turn a blind eye and tainted by association with a club they still lazily branded as bully boys. When Marouane Fellaini assaulted him two years ago at a corner, there was the implication from some quarters that Ryan had 'asked' for it with his grappling antics. In this season's televised draw at QPR, it was highlighted again and again.
But we really can't feel too hard done by. Yes, plenty of teams do it, yes, refs more often than not ignore it (something Mark Halsey actually admitted last season to BT Sports before he was silenced by the officiating omerta in place), but gaining an advantage by holding an opponent IS cheating, and Ryan was bang to rights.
Both penalties were correct, however much bug-eyed, brick-wielding Aled Jones lookalike Garry Monk might whinge about Victor Moses' willingness to take a tumble. Rangel had hold of his shirt and, I can't stress this enough, THAT IS AGAINST THE LAWS OF THE GAME. It's a foul anywhere on the pitch, so if it happens in the area, it's a penalty.
Ditto Ryan's game of British Bulldog with Bony. Again, the attacker makes the most of it but that doesn't mean it's not a foul. It doesn't wash to say complain that penalising such incidents "would mean refs were giving six penalties a game" – if a foul is being committed in the box, then they SHOULD be giving penalties, shouldn't they? It's up to the players not to do it. We say we want consistency from referees, then when the refs actually enforce the rules – the only way consistency can ever be realistically achieved – we moan about that as well.
Not that Oliver is any kind of doyen of consistency himself. He's an unedifying specimen, the refereeing anointed one, naked ambition steaming off him like a cloud of dodgy cologne bought from Del Boy's market. He got the two penalty decisions right but, as he did against Leicester, he made it his mission to show off his big boy trousers by going out of his way to show he wasn't fazed by the bearpit, giving us the spot kick but little else while awarding the men from the valleys all manner of dubious free kicks. His conviction to punish shirt pulling also curiously evaporated when Peter Crouch clearly had his jersey tugged in the area.
It will be interesting to see if refs do this in other games not featuring easy targets Stoke City. Yet we have to learn our lesson from this. Ryan either needs to eliminate the wrestling from his game, or if that's too naïve, he needs to be smarter about it. Rather than the blatant, pantomime full nelson stuff, he needs to practice the dark arts more subtly – a hidden hand here, a mischievous knee there. The act has been well and truly found out. The only surprise is it's taken this long.
3) Stoke leave their gate unbolted…and get away with it
Easily the most contentious decision in Mark Hughes' team selection was Stephen Ireland's recall in place of the injured Glenn Whelan. Given Gylfi Sigurdsson's influence this season, with six assists in his last seven games and both goals in Iceland's stunning midweek defeat of the Netherlands, it was baffling that we opted to go without a genuine defensive midfielder.
The first half showed just how much we missed Whelan. Our play was totally disjointed and we were wide open at the back, with Sigurdsson, operating in the hole, finding a frightening amount of freedom and creating two huge opportunities in the first 10 minutes. The first time he ran clear, the Icelander rejected the chance to shoot in favour of hanging a leg out in front of Begovic and trying to con a penalty out of Oliver (an incident mysteriously not referenced by guardian of all that is pure G. Monk). Six minutes later, some lovely intricate play on the edge of the box totally befuddled our defence, before Sigurdsson played in Ki, only for Begovic to come rushing out to make a fine save.
Yet we failed to learn our lesson and Sigurdsson continued to find space throughout the half, while on numerous occasions our two deep midfielders, Adam and Nzonzi, could be seen standing on their own or slowly jogging back, not tracking their man.
Fortunately, the visitors' threat receded in the second half, and the lack of a proper DM was not quite the issue it might have been. Nevertheless, it shouldn't go unnoticed that we didn't find any cohesion until Geoff Cameron entered the fray.
Finally given a chance in midfield, the US international was excellent, completing 100% of his passes, negating the threat of Bony, who had spent the game bullying our centre halves, and displaying composure, intelligence and strength in shielding and distributing the ball. He also made a telling contribution to the winner, making a key interception and driving forward, evading a challenge and setting in motion the move that Walters would so powerfully finish.
He may well have earned himself a start at the base of the midfield next weekend.
I didn't think Ireland had the nightmare some felt he did, certainly not compared to his two hideous performances in his previous two starts this season. He was tidy enough, if unshowy, but he simply didn't exert the influence needed of a player in that attacking midfield role. His return was an odd one, given that he had done nothing in quite some time to warrant being anywhere near the starting line up.
Hughes' starting midfield trio underlined the fact that bunging more attacking players into your team doesn't automatically make you a more effective attacking unit. You need that balance, and with 'the glue' out, we were rarely able to turn it on until we stuck on some American adhesive.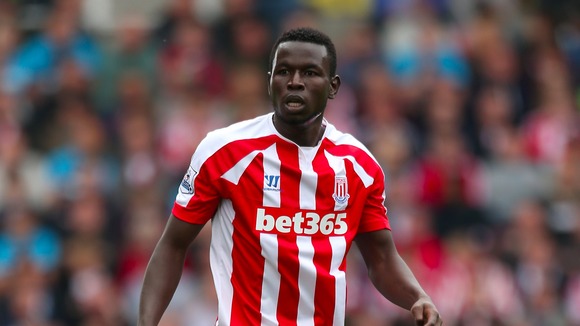 4) Diouf is no Odemwingie – so far
As a champion of Mame Biram Diouf since day one, and someone who was convinced his arrival would result in a veritable eruption of goals, I have to confess I'm starting to get a bit worried about the Senegalese star. He was close to useless on Sunday, and not for the first time this season.
I accept that he's only just back from injury, and I still think he can come good – the league is full of examples of players who took time to adapt to English football, one of them being Swansea's goalscorer.
But having failed to replace Peter Crouch as the centre forward, he's now struggling to prove an able stand-in for Peter Odemwingie as a goalscoring wide forward. It's bizarre that a player capable of scoring that wonderful goal against Manchester City can so regularly be totally devoid of any kind of touch or presence, as he was against the Swans. As at Hull, the ball just bounced off him (much to his own growing frustration, as well as everyone else's), and overall he has shown little of the skill or clever, powerful play of the crocked Odemwingie.
It didn't help his cause that his replacement showed exactly what the striker in that role is supposed to do, as Jon Walters drifted inside to bury a precise header past Fabianski.
What's more worrying is that he's not doing any of the things that made him such a hot property in Germany. He's not finding space, making the right runs or getting into dangerous positions. Several times Adam broke and looked for Diouf to pull away to receive the ball in space, but the former Blackburn striker continually failed to do so, staying close to his marker and providing no kind of angle to aim for. Sorry Mame, that's what we signed you for.
Maybe he isn't happy about playing out wide, but he hasn't convinced as a lone striker, and he looked so good on the right of a front three at QPR, a constant menace who scored one goal and might have had a couple more.
He might have arrived on a free transfer but I think it's a safe bet, taking wages and signing on fee into account, that a considerable outlay has been invested in Mr Diouf. He's the manager's man, and Hughes has a lot riding on him. So far we've not come close to seeing the best of him.
He'll always have the Etihad, but we need to see more.
5) The right subs at the right time
Mark Hughes' use (or sometimes, the lack thereof) of substitutes has been considered by many to be his Achilles' heel during his time as Stoke manager, with a tendency to wait too long to change things, and switches that often leave fans scratching their heads when the electronic board does eventually go up.
Here though, he got the timing and personnel absolutely spot on. With the game finely poised around the hour mark, Hughes' changes were positive, designed to turn one point into three, with the right players going off and the right players coming on. A third, enforced change came later when Moses again limped off, and his replacement would also have a profound impact on proceedings.
Credit to the three subs themselves, each of whom enhanced their reputations. Walters' physicality and bustling play high up the pitch against tiring legs provided a valuable nuisance factor, and that, plus his well-taken winner, offered yet more evidence that 'impact sub' is far and away his best role in the squad. How happy Jon will be to retain that mantle remains to be seen.
Cameron, as discussed, was the game's pivotal introduction, bringing the composure to free our other midfielders to push forward.
Oussama Assaidi meanwhile, enjoyed his best showing since his return, taking over from Moses as our chief outlet and proving more willing to cross the ball from wide positions rather than simply cutting inside all the time. It was one such cross, nicely looped and weighted into the danger zone, that produced the winning goal.
It was interesting that the effect of Swansea's own exciting, attacking changes – the arrival of speed demon Jefferson Montero and French international striker Bafétimbi Gomis – only succeeded in taking more wind out of their sails. In particular, the arrival of Gomis and Emnes in place of Dyer and Sigurdsson essentially boiled down to bunging on more forwards while simultaneously choking off their supply line. Maybe that decision was fluttering around in Monk's mind when he had his 'Falling Down' moment after the game.
You'd be hard pushed to argue that Hughes picked the right starting XI, but he certainly made amends with his subs – and that's something we've not been able to say for a while.