1)  Victory over Wenger tastes as sweet as ever
I don't know about you, but I feel absolutely knackered after that. God only knows how the players can even muster the energy to get out of bed after the huge team effort that secured a huge and memorable win at the Britannia on Saturday. Regardless of the opposition, we needed a result and performance after three disappointing defeats in a row, and we got both. It feels somehow wrong to bandy about words like 'warriors' and 'heroes' after the presence of the veterans pre-match offered a reminder that the petty squabbles that surround this fixture are meaningless in the grand scheme of things. But we can be proud of our team – everyone gave everything.
Seven seasons on, the visit of Arsenal still feels like a big occasion. It's one the players are usually bang up for, and one where the crowd is always at its most vocal and vociferous. The bond between the two is never stronger than when the Gunners come to town.
The influence of a home crowd can be overstated sometimes, but there was no denying the role it played on Saturday, feeling like a character in itself in the unfolding drama. From the first kick to the last, the stadium was at its loudest and most intimidating, ensuring that Arsene Wenger was essentially a prisoner in his own dugout.
The first half was simply beautiful – as good a 45 minutes as we've produced this century. It was a Stoke City Premier League greatest hit package, encapsulating everything from the storming, hell-for-leather early stuff – tempo, height, power, desire, aggression – to the latter day Sgt. Pepper/Pet Sounds experimental stuff based around possession, slick passing and twinkle-toed no. 10s.
The second half was like being shown Marathon Man at the dentist's, or having Final Destination as your in-flight film: a terrifying, hysteria-inducing, exhausting ordeal – but one we successfully battled through to take what we deserved.
We set the tone with that remarkable early goal, Peter Crouch taking around 20 seconds to announce his return, and Arsenal, though they did muster the occasional half-decent opportunity (Giroud missed an absolute sitter in the first 10 minutes), for the most part looked completely overawed and unready for what we threw at them.
If the first was a gift for Crouch after Calum Chambers, with the England manager watching in the stands, made a right old hash of Nzonzi's cross, the second was a work of art. We'd been stroking the ball around nicely when Geoff Cameron found Jon Walters wide on the right, and he whipped in a superb fast, low ball. Suddenly, there was Bojan, steaming in from nowhere to poke home first time.
It's ironic, given Wenger's penchant for ignoring the defective areas of his side to stockpile fancy no 10s, that the best creative player on the pitch (again) was Bojan – a player who, like Alexis Sanchez, arrived from Barcelona, but at a 70th of the price. He was at the heart of our best play, weaving magic between the lines, whether it was linking with Nzonzi, playing in the wide men or going it alone. Every touch, every shimmy, every drop of the shoulder was sprinkled with stardust.
Things were starting to get silly by the time we even managed to grab a goal from a corner, Walters, another one returning having missed the Man Utd game through injury, adding to his assist with his fourth goal of the season by stabbing into the roof of the net after Crouch had effortlessly won a header from Bojan's delivery.
3-0 after 44 minutes, and you very much got the feeling that the scoring would continue. Stoke appeared to have addressed some of the problems that had been plaguing them, looking more ruthless in the final third and more solid at the back. Arsenal looked as if it was all too much for them. The half time whistle saved them.
The entrance of Danny Welbeck for the second half did make a difference, and Arsenal made a more lively start to proceedings, with both the former Man Utd man and the dangerous Alex Oxlade-Chamberlain having chances. Sanchez looked certain to reduce the deficit when he intercepted Nzonzi's casual pass and raced past Muniesa, then around Begovic, but he was just off-balance enough to clip his shot against the post instead.
Stoke still posed a threat however, and the Gunners were still rattled, as evidenced by £37m Sanchez taking perhaps the worst corner of all time, gently rolling it into Begovic's arms. Then came the turning point. As we broke once more through Bojan, the little Catalan cut inside and drilled a shot sweetly beyond Martinez to make it four. Players and fans celebrated, the scoreboard changed…and then, after a lengthy period of time, the ref was signalling no goal and awarding Arsenal a free kick. The suggestion was that Diouf was offside and in the goalkeeper's eyeline. Yet that didn't seem the case at the time and subsequently was proven not to be the case by replays.
The amount of time that elapsed before the goal was disallowed, and the fact that it very much appears to have been the referee's call as opposed to either of his assistants', has the faint whiff of something fishy about it. Failed Howard Webb cloning experiment Anthony Taylor has form for helping out the big sides against Stoke. It was he who bottled giving Paul Scholes a second yellow card at Old Trafford two seasons ago, despite thinking nothing of doling out the yellows to our players for similar and lesser offences. He was also the man who awarded the infamous 'Spanish penalty' for Liverpool last January. His reffing style on Saturday was similar, booking Crouch and Muniesa for nothing offences while taking no action against Giroud for an appalling piece of playacting (from a man as addicted to cheating on the pitch as he is off it).
That denial knocked the stuffing out of us a little, especially since Arsenal won a penalty with their next attack, Diouf clumsily clipping Flamini's heels. Santi Cazorla, easily Arsenal's best player on the day, put away the spot kick, and three and a half sides of the ground felt their sphincters tighten. With good reason too, as it happened. Two minutes later, Aaron Ramsey was left ridiculously unmarked at a corner and his low volley made it 3-2…and suddenly we were staring into the abyss of the most painful of collapses.
Arsenal kept turning the screws, a situation partly of our own making after substitutions again had the effect of making us look a poorer side. Begovic saved from Welbeck, Cazorla and Podolski. Then some breathing space was granted when the visitors were reduced to 10 men, after the dismissal of cocky Johnny Bravo lookalike Chambers, who could have no complaints whatsoever over his two cynical fouls.
We did the necessary to see the game out.
It wasn't a perfect performance, but it was a very strong one, and even the second half demonstrated that we had the character to withstand the Arsenal fightback. It was vital that we stopped the rot and picked up some wins in this wickedly tough sequence of games over Christmas, and that urgency was ratcheted up after defeat to Burnley.
Ultimately though, this win, fine as it was, changes little. We know we have the measure of Arsenal at home. We know we can get results against the sides who come to play football and attack. The real acid test will come at home to West Brom three days after Christmas – the next 'bread and butter' home game against a team who will likely sit deep and give us little space.
For now though, there's little left to do but savour, once again, the grimace tightly welded to Wenger's face as he headed for the tunnel. It just doesn't get old.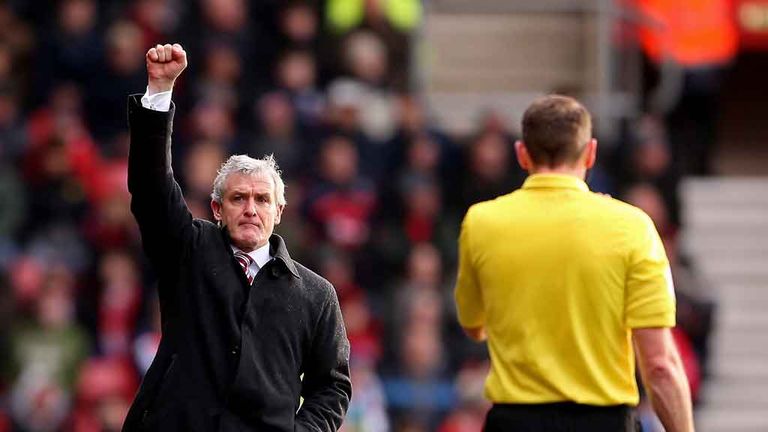 2)  Hughes gets it so so right, then nearly so, so wrong.
The starting XI raised a few concerns, but they were shown to be nonsense within a matter of seconds. On paper, there was little creativity in the side, with no guile out wide and no pace through the middle. We were 3-0 up by half time. The lack of a sitter gave the midfield a lightweight look. Instead the energy of the midfielders powered our display. The back four looked more settled and composed than it has in weeks as well, until Marc Muniesa's enforced exit.
With meagre playing resources at his disposal, Mark Hughes made the right selections to take on Arsenal in every department. The willing runners on the flanks turned out to be exactly what was needed. Walters' return was a no-brainer, his brawn, industry and menace so often causing Wenger's team problems. Saturday was no exception, with a goal and an assist to his name in addition to his blossoming role as Bojan's burly protector, his fizz and capacity to irritate defenders preventing them from devoting all their time to stifling the Spaniard's sorcery.
Shifting Diouf out wide meant we retained that crucial pace in the final third but we able to accommodate Crouch, who, like Walters, has a skill set that is kryptonite to Arsenal's wobbly back line.
In midfield, Steven Nzonzi built on his fine showing at Old Trafford with another influential display of strength and composure, even if he did come close to undoing everything with that awful, lackadaisical ball to Bojan that let Sanchez in and his less than proactive approach to recovering it. Nonetheless, more often than not, he and Krkiç were on the same wavelength – exchanges between the two were by a distance Stoke's most common passing combinations.
A bigger surprise came in the shape of Geoff Cameron, granted another opportunity in the middle of the park despite, 20 minutes against Swansea aside, not convincing in that position. Against Arsenal however he was excellent, winning numerous tackles and interceptions and driving forward to get the team on the front foot. If he can find some consistency, he will make himself a strong candidate to rival Whelan and Sidwell for one of those roles alongside Nzonzi.
All of those savvy selections, however, were undermined by yet more dodgy substitutions that could have torpedoed what was shaping up to be one of the great Stoke performances of recent times. The injury to Muniesa meant a hole needed plugging in defence, and the decision to bring on Glenn Whelan and move Geoff Cameron back betrayed the manager's lack of faith in Robert Huth's fitness.
However, the American is altogether less convincing at centre back, and we really missed his vitality in the engine room. Both were factors in Arsenal's growing dominance and ability to create chances, as our shape threatened to dissolve at times. Was Huth really incapable of playing 27 minutes with the score at 3-0? If not, why was he on the bench? Moreover, Whelan himself looked some way from fitness as he chugged around, off the pace, only really able to perform the basics.
Our difficulties were compounded with the next Stoke change, which saw Diouf replaced by Charlie Adam. The Senegal forward was far from great on the left, and judging by his reluctance to run with the ball or shoot when played in, his confidence is at absolute rock bottom. Yet – and I don't think people fully appreciate this – his pace, even without much else to go with it sometimes, is an asset in this kind of game and should have been replaced (which meant Oussama Assaidi, for all his own limitations, should have been the man to come on).
I've never understood this strategy of taking off an outlet when protecting a lead stuff. I didn't get it when TP used to sub Etherington or Pennant for Whitehead, and I don't get it now. All it does is ensure that you spend the rest of the game under pressure with no means of alleviating it. There were times when you could be forgiven for thinking that we were the team down to ten. The fact that Adam was a walking calamity when he came on didn't help, as he stumbled from running the ball out of play under no pressure, to giving the ball away on the edge of his own box, to catching Sanchez with something resembling a sleeper hold.
Huth's late introduction was a bright spot. The Berlin Wall was fired up long before he made his entrance, dishing out a fearsome tongue lashing to a ball boy who he felt was overly hasty in returning the ball and then winning two thumping, decisive headers when he made it onto the pitch.
Get well soon, sir. Really soon.
3)  Crouch shows what we've been missing…and what we still need
Eight career goals against Arsenal – Peter Crouch has the Gunners' number, and wasted no time in showing it one more time. Stoke's fastest goal since Asmir Begovic got his gusty freak on last November, Crouch's close range side footed finish was also the quickest Premier League goal of the season so far.
The goal demonstrated perfectly why Crouch's recall was such a shrewd inclusion. He won two aerial duels in the build-up before being perfectly placed to profit from the chaos in the Arsenal defence. It might have been a simple finish, but he was cool and clinical when presented with it, where other strikers, as we've seen in the last couple of games, might have snatched at it.
An awkward yet oddly graceful presence (most of the time), Crouch gave us an aerial option that Arsenal are still useless at countering, he made sure the ball stuck in the final third, and he brought the other forwards into the game. It was a welcome return and the most significant selection the manager made.
However, at the same time we could also glimpse the limitations that mean another striking alternative has to be a priority for our January wish list. Throughout the game we had nobody closing down their defenders when they brought the ball out to start attacks, and I really think we miss a trick by not doing this. Few teams can sustain a pressing game for 90 minutes every week, so you pick and choose the games, and the more 'cultured' sides are the ones to really try and stifle from the front. They found more and more space as the game progressed, but too often we didn't even try to strangle their attacks in the cradle.
Diouf is far better at this aspect of the game, yet we've seen there are myriad things he can't do as a lone striker that Crouch can. Both are very useful options to have, but the total package – a Bony/Benteke/Pelle etc – continues to elude us. The search must continue.
4)  Are we finally edging towards the right back four?
The double whammy of a recurrence of Marc Wilson's injury and a dearth of options in midfield meant that Marc Muniesa finally got his big chance at centre back, and for the 63 minutes he was on the field he grabbed it with both hands. You had to marvel at how much more solid we looked with the ex-Barca starlet alongside the ever-excellent Ryan Shawcross. The latter was the best defender on the park, relishing the challenge these games always provide and exorcising another demon with each passing victory over Wenger's men. His leadership was vital and nobody made more clearances. If Chambers is in the next England squad and Shawcross isn't, it's finally time to cart Mr Roy off to the funny farm.
Muniesa, meanwhile, was intelligent, his positioning consistently top notch, and it's remarkable how much tougher he seems when he moves into the centre. The secret of defending, like comedy, is timing, and Muniesa has the knack down to a fine art, be it on the deck or in the air.
There was one hairy moment where Sanchez breezed past him, and that lack of pace might be an issue, but the fact that he was on a yellow card (harshly) has to be taken into consideration there, and more illustrious defenders will struggle to cope with the Chilean before the season is out.
I can't see a reason why a first team spot shouldn't be his between now and either Huth proving his fitness or the arrival of a new centre back in January – or even beyond then.
A word of praise also for Erik Pieters, who was much improved this week after the roughest spell of his Stoke career, reading the game well and starting off attacks with confidence.
Muniesa's departure left us panicky however, and as Arsenal's onslaught intensified we became rash and sloppy, failing to track runners, giving the ball away and generally looking ragged.
One issue we're having on an almost weekly basis is the back four taking it in turns to be the weak link. Virtually every defender on the books has had this fate befall them (the captain excepted), and this week the needle fell on Phil Bardsley. The right back did some good stuff in the first hour, looking dangerous going forward and coming close to scoring his first goal for the club when Martinez spilled his fierce 25 yard drive, as well as winning the most tackles of anyone.
He visibly tired as the game wore on though (likely as a result of his own battles with the dreaded lurgy), and by the last 20 minutes Arsenal were clearly targeting, him, realising they could get in behind him at will, with Walters constantly having to point and tell him who to mark, and Bardsley not always paying heed.
The Scotland international has done well since coming to the club and his fierce competition with Cameron for the right back role can only be a good thing, but both have weaknesses that can set your teeth on edge when we're under the cosh.
You have to praise our resilience to hold out for the win, but with two more daft, avoidable goals conceded, a clean sheet looks as far away as ever.
5)  They who score first, laugh last
Scoring after just 20 seconds – against Arsenal – gave me such an intense burst of pleasure that I thought I might actually have a stroke. It was several minutes before my ears stopped buzzing and I felt as if my own blood was hissing things at me.
It was intense.
Not for the first time this season, the importance of scoring first was hammered home. We have dropped just four points out of 18 from the games in which we have taken the lead this season, but won just four from 27 in those in which we have fallen behind. It's also worth noting that our best performances this season have generally been the ones in which we've started like a rocket (West Ham, Spurs, Arsenal).
When you set up to play on the break, getting that first goal becomes even more important, as it forces the other team to come out and play, thus leaving gaps for your quick players to exploit. Yield the opener and a team can just sit back and cut off all the space as Villa, Leicester and Burnley did.
There's no question that we need a Plan B to the counter attacking game, but as long as Plan A is Plan A, we have to come roaring out of the traps. It's fair to say we nailed that this weekend.