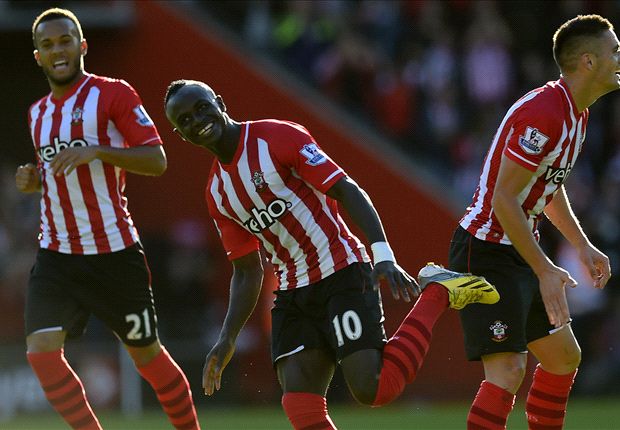 The Top 5 Conclusions from Southampton 1-0 Stoke City 25.10.14
1)  A lack of courage?
It certainly could have been worse, as our old chums from Wearside showed seven days previously, but you can still colour me a tad disappointed with defeat down by the Itchen. I felt we might catch a Saints side with a case of 'after the Lord Mayor's show', but in the end it was a comfortable three points for Ronald Koeman's men. It was they who dominated possession, they who had the chances, and they who generally bossed proceedings, albeit in a low-key fashion.
We are capable of giving a better account of ourselves, and to an extent, we bottled it.
Perhaps faintly terrified after Sunderland's evisceration, Mark Hughes opted for caution on the south coast. His team selection generally made sense – certainly Geoff Cameron had earned a start in midfield – but we were defending deep and wasting time from the outset. It didn't do a lot of good, as despite our best efforts a confident Southampton had spurned enough chances to have gone home and stuck a team of dustbins in their place for the second half. Which they sort of did, in a way. We had more of the ball and more of the game after the interval, but rarely in any danger zones.
Half-chances for Crouch and Diouf aside, Stoke simply never looked like scoring at St Mary's.
We have shown this season we have nothing to fear on the road. We should keep the courage of our convictions regardless of who our opponents might have spanked the week before.
2)  Walters' selection unbalances the side
The problem with our game plan was that we had no ability to hit Southampton on the break. The only pace in the side belonged to Moses, who was again clearly some way from being 100%. It's hard to know how critical to be of the decision to start Jon Walters out wide – it depends on the circumstances. There's a time and a place for his skill set, but if you're setting up to sit deep and counter away from home, you need speed on the flanks.
Walters' presence unbalanced the side. We relied entirely on Moses, who the Saints were more than ready for. If the selection was enforced due to others not being fit then it's understandable; if it was a reward for his winner last week, a punishment for a woeful Mame Biram Diouf showing against Swansea or a tactical, nominally 'defensive' move, than you have to say it was a big mistake on the manager's part.
We know exactly what to expect from JW by now. He's a strong threat coming off the bench and can even do a job powerballing about in the hole, but starting out wide he just doesn't have any impact.
However, if MBD was not fit to start, then Walter's selection becomes a lot more understandable. That 4-3-3 requires a forward on the right to feed off Crouch. Odemwingie did it brilliantly. Diouf has been hit and miss. If both are unavailable, Walters is really the only option we have left, as he showed against Swansea. Stick another out and out winger there in that system and you just leave Crouch isolated. Maybe we're not as well stocked with attacking talent as we thought.
However indifferent our performances, the toll injuries have taken on our season can't be overlooked. From Robert Huth's absence, to Glenn Whelan's broken leg, to Odemwingie, to the twangy hamstrings of Diouf and Moses, they've had an impact on near enough every outfield department.
3) The Wilson Conundrum
Why always MW? Once again, a mistake by the man from Agahallon was ruthlessly punished, its significance magnified in part because of our problems at the other end of the pitch. Charlie Adam deserves a portion of the blame for his silly, needless concession of a free kick, but it was Wilson's poor headed clearance straight to Graziano Pelle that led to the goal. The Italian's scuffed shot wasn't the best, but when it came back off the post, the dangerous Sadio Mane made no mistake, slamming it into the roof of the net.
It was a prime example of the Wilson enigma. Week after week he turns in mostly fine displays, reading the game well, winning aerial duels, tidying up, making critical interventions, timing challenges well, using the ball well. But that one lapse per game he falls prey to is consistently costing us goals, and that cannot be swept under the carpet. There have been occasions where his errors have been part of a wider tissue of defensive calamity involving others, such as against Villa, Hull and Leicester. But there have been others, such as two at Sunderland and the goal on the south coast on Saturday, that were all on him. He's even got away with a couple; his poor clearance led to the sitter Jack Colback missed for Newcastle, while Ryan Shawcross had to come to his rescue against Swansea when he got caught under the ball and Bony surged past him.
You could argue it's unfair to single him out, but could you compile that kind of roll call for any other members of the back four? If you can, be my guest.
The problem is, there's no compelling alternative to Wilson as things stand. The longer Robert Huth's absence lasts, the less likely it seems that he'll return as the formidable wall of old – if he returns at all. Geoff Cameron seems to have similar issues to Wilson if his world cup displays are anything to go by. Marc Muniesa has impressed at centre back but to throw him in now would be a very brave move, and you wonder if the brevity of his recent left back run might have dented his confidence.
Despite the chances Southampton were able to create we actually defended pretty well on the whole. Phil Bardsley in particular had another strong game, making the most clearances and interceptions of anyone and the second most tackles. Pieters and Wilson were high on the list in terms of clearances as well.
It also should be stressed that defenders have it tougher under Hughes than Pulis. They don't have anything like the same amount of protection, they're expected to be more adept on the ball (rightly so on both counts, in my opinion). We also have a situation at the moment where the one natural defensive shielding midfielder at the club is out with a broken leg. In that context, of course opposing teams, especially ones as good as Southampton, are going to get chances. The issue though is with the basic, elementary mistakes we make that mean we shoot ourselves in the foot so regularly.
Where Wilson is concerned, the dividing line is this: are you happy for a player to defend well for 85 minutes but to cost us a goal in the other five? Our lack of scoring prowess means there are fine margins involved at present,  and I don't think we can afford to keep throwing points away. We're at the stage where we need to look at other options. They may not work out. Wilson may be our best bet. But I don't see the harm in trying something else. What is there to lose at this point?
4) Subs shine a light on problem areas
For a second consecutive week, the changes we made in the second half made a difference – though obviously to a much, much lesser degree. All three did reasonably well, and the change from 4-4-2 was similarly useful. Diouf, on as a second striker in place of Adam, made a nuisance of himself with his pace, and you wonder if a run of games using this system might benefit him and us. Assaidi was direct showed a willingness to run at defenders, and though there's still no sign of the Marko Arnautovic of last spring, the Austrian had his moments with some positive forward passes.
In their own way, each of them underlined problems in the starting XI or the wider squad at the moment. Diouf's arrival highlighted the folly of picking a counter attacking team with no pace. The contest was a miserable throwback to the dark, dull away days of the fag end of the Pulis era, when we routinely set up not to concede and as soon as we did, it was game over.
Assaidi offered more threat than Moses, who has been out of sorts for the last three games, suffering from the twin woes of a) not being fit and b) opposing teams having identified him as the danger man. He needs to be protected but instead we are running him into the ground, and the lack of threat on the other flank only heaped more pressure on his shoulders. He really could do with a rest, but we don't seem to believe we can cope without him. Giving Assaidi the next couple of games would at least give us the chance to work on a plan beyond 'give it to Victor'.
Arnie's Jekyll and Hyde showings meanwhile, have had a twofold effect. The good stuff shows just what we've been missing, aching for creativity as the chances we were creating (and missing) early in the campaign have dried up. The bad stuff, such as his bizarre, infuriating reluctance to run at players, makes clear just how indebted that sparkling run last Feb – May was to his performances. Now he's struggling, and so are we.
5) Southampton have left us behind
Ultimately, for all the analysis of the shortcomings in our own performance, we were outclassed on Saturday. Though the scoreline was narrow, the gulf between the teams was not. Despite defending well, the Saints still picked us apart frequently in the first half and could have gone in several goals to the good. Pelle missed an early sitter and Schneiderlin later hit the bar. Mane probably should have scored before he did.
The home side's quality was particularly evident in midfield, where the movement, intelligence and passing of players like Tadic and Schneiderlin, not to mention the underrated (and miraculously still alive) Jack Cork was different class. Our own engine room was not able to live with them, but then again, not many teams in this division could. Our midfielders have come in for a lot of stick, but I thought their struggle was more to do with the opposition's class than their own failure. Geoff Cameron put in a shift in the defensive midfield role, and though the jury is still out on whether he has the same discipline Glenn Whelan brings to the role, he made some characteristically good interceptions and showed good footwork when he came forward.
Steven Nzonzi continues to frustrate a lot of fans but I thought he started the game well as the midfielder given licence to come forward, and he put in one peach of a cross for Peter Crouch that was one of only two half-decent opportunities we forged all game. He did fade, but I still think the 'he slows us down' argument is a red herring. When your attacking trio consists of Walters, Crouch, and a half-fit, heavily marked Victor Moses, who exactly is he slowing down?
Charlie Adam had a very poor game, but even then there were mitigating circumstances given the injury he sustained, and his type of player was always going to struggle against the possession game and movement of Southampton's players.
What is frustrating is how much better Southampton looked than us. We had a five-season head start on them, yet they appear to have surpassed us.
To an extent, their success thus far this season is something of a freak occurrence – how often does a team sell so many of its best players and then replace them with equally good or better players, almost to a man? It's pretty much unprecedented.
Yet it also can't be ignored that they have spent time and money on areas that we seemed to neglect for years. They have invested heavily in their academy – yes, financial constraints and two relegations might have forced their hand somewhat, but they nevertheless did what was required – and for almost a decade now have been making huge profits on a conveyor belt of young talent that shows no sign of letting up. Walcott, Bale, Oxlade-Chamberlain, Lallana, Shaw, Chambers – that's over £100m in fees raised, right there.
Their scouting system and use of the overseas market has been similarly stellar (bar the odd big money Osvaldo/Ramirez mishap), from Schneiderlin, to Lovren, to Tadic and Pelle. They've made the most of their spending spree and the resale value of the players they've brought in is another valuable source of funds.
It won't last forever – ask Wigan – but they seem well set up for a fair few years of fat, with plenty to show for their coin. Certain other clubs, their taps now apparently well and truly turned off, can't really say the same…