1)  Evolution has been a topsy-turvy process
The short-term aim was supposed to be survival – a sensible goal for a season of transition, as a team that had fallen out of the habit of winning slowly adapted after a decade of one deeply ingrained way of playing.
Long-term, the plan was evolution, finally reaching that mythical 'next level' in terms of results and performance.
That both have been achieved by May is testament to the remarkable job done by everyone at Stoke City Football Club.
Not that things got off to the most auspicious of starts, as within four minutes of the opening game at Anfield, new manager Mark Hughes could be seen bellowing "CALM DOWN" at his charges as they attempted to turn 'Bambi on Ice' from a cliché into an all-singing, all-dancing musical comedy.
Though the early signs weren't entirely devoid of promise, there was plenty to worry about. The team was far more open but was also defending poorly and conceding silly goals. The full backs, on whom our attacking play relied in the season's opening months, constantly left huge gaps for opposing wide men to exploit, while the midfield was providing scant protection for an increasingly beleaguered back line. Up front meanwhile, there was still no pace or cutting edge, with aimless hoofing replaced by passing for the sake of passing, and wingers crossing into one, solitary, heavily marked striker in the box. Goals continued to prove hard to come by.
Frustrations grew among sections of the support as the team went from the end of August to the start of December without recording a win, and some accused Hughes' team of losing its identity, with the battling qualities, heart and togetherness that had been largely responsible for establishing Stoke as a Premier League outfit being cast aside in favour of the pretty but pointless, anaemic passing trappings of Tony Mowbray-era West Brom.
Hughes had taken time to try and identify his best XI, tinkering with the forward, defensive midfield and wide positions, but by the time Chelsea were memorably beaten on 7th December it seemed he had found it, and a run of just one defeat in eight matches followed. The returns of Crouch and Whelan as first team regulars had the desired effect at each end of the pitch, while there was a symbolic passing of the torch from the old-fashioned, hard working Matthew Etherington to the younger, more exotic stylings of Marko Arnautovic.
Yet after Christmas there followed another worrying downturn in form. Injuries, suspensions and some horrendous refereeing played their part, but there could be no excuses for our dreadful defending in shipping five at home to Liverpool or for our simpering, whimpering defeat to Tony Pulis' Crystal Palace in January. An apparently fruitless transfer deadline day came and went, and Stoke headed into February in the relegation zone.
A first league victory over Manchester United in 30 years that very day breathed fresh confidence into the side however, and little by little, those trademark strengths began to return, married to some genuine flair as Arnautovic found his feet and a cutting edge was brought by new signing Peter Odemwingie. Stoke showed their toughness, went direct when they had to, were almost unbeatable at home and showed their character with only three teams winning more points from losing positions.
Hughes demonstrated his flexibility, using different tactics, personnel and formations to deal with different opponents, and by spring Stoke were flying, playing arguably their finest football since promotion and carrying out stylish, rapier-quick demolition jobs on the likes of West Ham, Aston Villa and Fulham. If the opening six months of the campaign had been like Blackpool Pleasure Beach's knackered old Wild Mouse, delivering excitement in fits and starts but seemingly always on the precipice of rickety disaster, the final three months were the Pepsi Max, smooth, sleek and reaching unprecedented highs.
There are still issues to iron out, such as the movement and decision-making in the final third, while there's an urgent need to hold onto the two pillars that have propped up our defence, ie the captain and the bloke between the sticks. But optimism burns more brightly than it has for some time. We're developing into a fast, fluid, creative Stoke City, and who would've thought that was possible this time last year? It's the tangible stuff that matters though, and the final table speaks for itself. Top Midlands club. Record Premier League points total. Ninth place – a highest finish for 39 years. It's been a great season.
2)  The new signings paid off (almost) to a man
The consternation at the end of both transfer windows, the nadir of which was the high five that will live in infamy as 'pizzagate', suggests that Stoke's still fairly new transfer structure didn't deliver its targets this year. To an extent, that's a valid argument. However, if the remit of 'Mark and his team' was to sign quality rather than quantity, there's no question that he succeeded. For an outlay of around £5m, Hughes was able to bring a number of very good footballers to Stoke City.
His hit rate was pretty damn impressive – of the nine players brought in, all bar one – tubby, delusional Swedish loanee John Guidetti – made some kind of contribution. Even Jermaine Pennant, whose return seemed little more than an act of appeasement to a fanbase underwhelmed at the new gaffer's appointment, delivered a terrific winner at West Ham before being rightly discarded in January.
The biggest fee Stoke paid was around £3m for Erik Pieters, a left back lined up, possibly by messrs Scholes and Cartwright, during the Pulis era. Hughes nonetheless opted to ratify the deal and though the Dutchman did endure a bit of a shaky settling in period, by the season's end he was a model of consistency, winning tackles aplenty and providing expert support for his winger, his finest hour coming in a man of the match display at Villa Park in which he was heavily involved in two of Stoke's four goals.
Typically, after waiting years for one half decent left back, two turned up at once, with Pieters getting a young understudy in the form of ex-Barcelona starlet Marc Muniesa. This was perhaps the most incongruous of all our signings, given he's the polar opposite of the kind of player we used to go for, but he looks a real find. No tippy tappy fancy Dan, Muniesa models himself on Carles Puyol and turned in some uncompromising displays at both left back and centre back, demonstrating excellent timing and no little flair coming forward. He looks like a star in the making.
Loan arrival Oussama Assaidi, similarly, is not yet the finished article, with question marks over his strength and decision-making, but his eye for the spectacular had quite an impact on our campaign, his pace and willingness to shoot on sight delivering four goals from 12 starts. The likeable Moroccan has shown enough for us to look at turning his temporary stay into a permanent one, and whatever happens, he has already written his name into club folklore with that injury time missile against Chelsea…
Other signings showed that the dogs' home ethos remained intact. Stephen Ireland seemed to be heading to some godforsaken Championship club like Middlesbrough or Doncaster before his old mentor Sparky picked up the phone, and the ex-Man City man repaid him by giving everyone a reminder of his subtle talents in the attacking midfield role, recycling the ball quickly, picking out players in space and leading the charge on the break. A pair of cracking goals notwithstanding, we're yet to see the best of him, but he has offered tantalising glimpses to suggest he may finally fulfil his outstanding potential with us.
Another huge surprise was the importance of Peter Odemwingie: he'd appeared every inch a January panic buy, 32-years-old, underperforming at Cardiff and better known in recent years as a punchline following his well-documented car park high-jinks in West London. Instead however, he brought vital bite to a previously rather toothless attack, scoring the goals that dragged us from the relegation zone to mid-table with a ruthlessness not seen since James Beattie did the same thing five years ago. The Nigerian international was arguably the best signing any club made in terms of sheer impact, and all he cost was sending Kenwyne Jones in the opposite direction, a player who'd given up on playing for Stoke City – or on football generally – months before.
Then there's the crown jewel. Marko Arnautovic is an enigma. £2.5m for a player who'd featured for some of Europe's top clubs invariably raised some awkward questions, as did the tales of an illicit joyride in Samuel Eto's car and other misdemeanours. Jose Mourinho, who managed him at Inter, had declared he had "the mind of a child". Yet the team had long been starved of creativity, and thus the arrival of a genuine maverick was cause for excitement.
Like Pieters, he took time to adjust to English football. We saw hints of his talent, such as his debut lob that just missed the target against Manchester City, his assist for Geoff Cameron at Arsenal or his superlative free kick at Old Trafford. But in the autumn months he simply wasn't contributing enough, and the sight of him standing, hands on hips, while the player who'd nicked the ball off him charged forward, was commonplace. His place in the side began to be called into question, and nobody seemed more frustrated than the Austrian himself.
Gradually though, with more attacking options to play with and his fitness improving all the time, he clicked. Bit by bit he got better until he terrorised Arsenal in our 1-0 win at the Brit. From that moment on he was unstoppable, creating chance after chance every week, having the beating of his full back at every turn. His first home goal against West Ham was followed by an outrageous rabona cross. He gave Aston Villa's Bacuna nightmares as the Villans were smoked 4-1. He dazzled, he confounded, he twisted their blood, and he signed off with two assists and a goal in his last two games.
He'll have ups and downs, no question, but after a couple of barren seasons with nobody to lift fans from their seats, here we have the real deal – for a steal. Rock Me, Amadeus.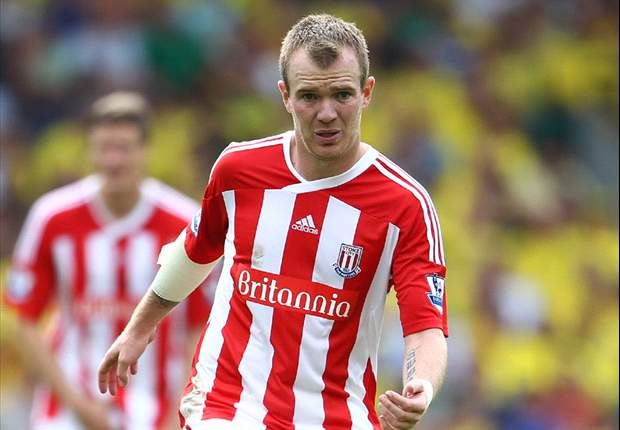 3)  The core was much stronger than it was given credit for
As good as the new players turned out to be, we owe a lot to the old guard who held the fort while the team was finding its feet, and blossomed with the rest in the spring.
There was a fairly strong argument pre-season that the squad bequeathed to Hughes was in need of a serious overhaul. Stoke had looked very much like relegation contenders for quite some time in a dismal, demoralised, lifeless second half of the last campaign, and the identity Hughes was accused of discarding had in fact started to dissipate long before his arrival.
The new man insisted to much scepticism from fans (including yours truly) that he had inherited a good group of players, and though it seemed like a case of making the right noises, he was proven right. The steely spine of survivors showed that the 'old Stoke''s best qualities remained intact.
Asmir Begovic enjoyed yet another outstanding season, setting the tone at Anfield with some incredible saves to keep the scoreline from getting embarrassing and continuing in that vein, commanding, organising, and making a string of octopus-like saves from strikers who were practically already celebrating. He confirmed his status as the club's best goalkeeper since Gordon Banks and it's hard to overstate how many points he's been worth. As well as we've done, things could have been very different without him – the fact that could only pick up one point from a possible 15 during his absence in January speaks volumes.
Ryan Shawcross can usually be relied on but even by the captain's high standards, this may have been his best campaign to date. In past years, Stoke had leaders all over the pitch, but this team was one with less experience (not to mention less emphasis on defending) and he stepped up to show exactly why Pulis' decision to give him the armband was the right one all along. He could be seen constantly barking orders, pointing, organising, and his performances were excellent, his positioning, marking and bravery unparalleled. Who cares about England? We know what we've got and we don't want to share him, thanks all the same.
Meanwhile, further evidence that the dogs' home was still open for business came from within the ranks. This blog has not been surprised by Glenn Whelan's stellar form as it has long rated the Dublin destroyer. But Whelan surpassed himself following his return to the side in November, and barely put a foot wrong in the defensive midfield role, plugging gaps off the ball and wasting little in getting our attacks started and making a number of crunching challenges. At this point, anyone who doesn't see what the Irishman brings to the side simply doesn't know their football. This is what a good defensive midfielder looks like.
Peter Crouch was much maligned during the Pulis era through little fault of his own, but had a much happier time of things this time round, benefiting from pace around him and better service to supply a steady stream of important goals. Like Jon Walters (whose goals and brass balls again proved valuable), he is a consummate pro, and it the season ended with both being eased out of the first team picture, hopefully they will stay to act as influential impact subs.
Marc Wilson got to start the season in his favoured midfield role but endured a difficult time there, struggling to provide the protection the defence needed. However, against the odds he found a home in central defence. The loss of Robert Huth to a long-term knee injury could have been catastrophic but instead Wilson, despite the odd lapse per game, proved a largely able deputy with some strong, sensible defending, giving as good as he got in the air and on the deck, reading the game well and looking neat on the ball. Huth is a club legend already, but the balance of Shawcross' leadership and no-nonsense style alongside a more cultured centre back has called his future into question, even if Wilson proves not to be the Berlin Wall's usurper himself.
The one thing you could always say about TP's teams was that you could never write them off, and the players he left behind have continued to make their doubters look foolish. Now that's a legacy.
4)  Unlocking the cage has paid dividends
It was fitting that Charlie Adam should score the first and last goals of Stoke's season. Not only did the husky Scot's strikes lend a neat symmetry to proceedings, but they underlined the importance of having an attacking midfielder in the side to ghost into scoring positions (is 'ghost' the right word for a player of his dimensions?) and who possesses the impudence to shoot from anywhere. Adam can be an intensely frustrating player, but his seven goals in just 20 starts have been priceless.
On paper, Adam occupied the same role as he did last season, operating just behind a lone striker. In reality though there was night and day between the roles he was asked to play. Last season he was expected to be Jon Walters, buzzing around marking opposing midfielders while popping up with goals. It worked at times but his creativity was stifled by the rigidity of our play – especially since a winger was dropped to accommodate both him and Walters in the same side – forcing Adam to drop deeper and deeper to forage for the ball and leaving Crouch even more isolated.
This season, with more pace in the side and more freedom to play his own game, Adam has been able to enjoy his best season since his Blackpool days.
Stoke's play was more open generally in 2013/14, with the team mixing up long balls with playing out from the back, the full backs given licence to get forward and two attack-minded wingers in the team, but the key factor in the team's increased goal output was surely the unshackling of the midfield, which contributed nearly 25% of Stoke's tally in the 'for' column. Previously, the job of the midfield lay in sitting deep, keeping shape and shielding the back four. This season, Whelan was trusted to do that job while the extra man at the tip of the midfield could drive forward to create, with Adam and Ireland bringing differing skillsets that were equally capable of producing the spectacular. Even Steven Nzonzi grabbed a couple of pearlers, becoming increasingly positive in his passing and movement as the team gathered momentum.
The focus has moved from what our men in the middle did off the ball to what they do on it. In a season of evolution, this shift in the engine room was the change that veered closest to all-out revolution.
5) Hughes has delivered
Many Stokies were unhappy with the appointment of Mark Hughes last May. The old adage that 'you're only as good as your last job' apparently rang true for them, and the Welshman's QPR nightmare had tarnished his reputation badly. That maxim has always been short-sighted and plainly ridiculous however, and, as this blog pointed out in giving the new man a cautious welcome, his CV as a whole was worthy of a great deal more respect than he was afforded by the likes of that prat with the van.
Hughes' managerial strengths had not laid in giving a team a brand new identity but in building on strong foundations and adding his own flourishes. At Blackburn he'd added quality delivery and goals to Graeme Souness' tough as nails scrappers; at Fulham he reverted to Roy Hodgson's blueprint but added the skills of Moussa Dembele to the mix; QPR, being a house of cards with no such structure in place, proved a project beyond his talents.
At Stoke however, he's had similar tools to those clubs where he'd been successful. The squad was stronger than many, your correspondent included, gave it credit for, and rather than the team losing their identity, Hughes actually helped them find it again after it had steadily eroded over the two prior seasons – propping up the fair play table in the process. At the same time, he developed a less one-dimensional, more dynamic, positive framework around that flinty heart. The result has been Stoke's most enjoyable season since the run to the cup final three years ago.
When TP was sacked, many of his acolytes among the support and in the media declared Stoke to have unrealistic expectations and there were grave warnings of Charlton's example and "be careful what you wish for". But what most fans wished for was what Hughes has delivered this season; top half ambitions and positive football, no more, no less (though a cup run would be the sweetest icing).
Hughes impressed not just in the ticking off of milestones left, right and centre but in doing so with a significantly reduced budget. It was gratifying to see players picked on form (one of the chief bugbears that saw many fall out of love with Hughes' predecessor was that he'd stick with his favourites even if they weren't performing), while the flexibility he demonstrated was also a welcome change of pace. Sometimes we deployed a 4-2-3-1, sometimes a 4-4-1-1. Sometimes we sat deep and hit teams on the break, at others we looked to keep possession and force the pace ourselves.
Above all, the respect the new man and his methods command in the dressing room is evident given that he's got the team playing his way – and doing so with some finesse – within a year. There's no more talks of pig's heads and factions, and the smiles are back on the faces of players and fans alike.
After a slow start, Peter Coates' decisions to depose Tony Pulis and appoint Mark Hughes have been totally and completely vindicated. The chairman made a shrewd call in finding a manager on the scrapheap with a burning hunger to restore his name – one who fit in perfectly with the aims of the possibly euphemistic 'new direction'. Hughes is arguably the ultimate dogs' home discovery, and he, and we, have benefited from that roll of the dice.
So where do we go from here? I do have a few suggestions. Until August though, we can bask in the light of a job done better than many of us dared to dream 12 months ago, Well done lads.